Taste and safety.
Every time you choose Martelli for your meal table,
you can be guaranteed true Italian genuineness.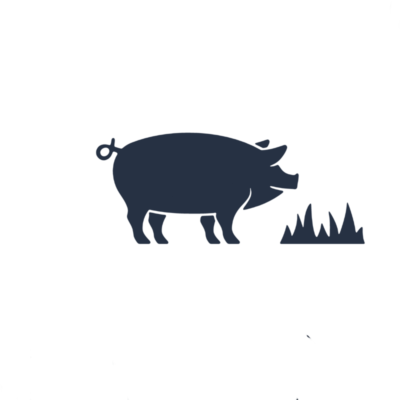 PIGS BORN IN THE PROVINCE OF TREVISO AND BRED IN THE PROVINCE OF MANTOVA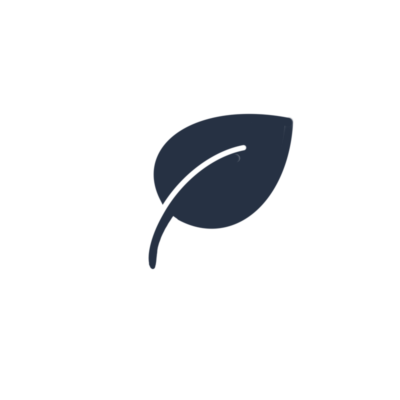 WITHOUT
ANTIBIOTICS
FROM BIRTH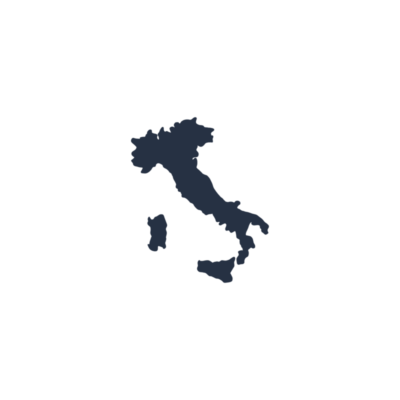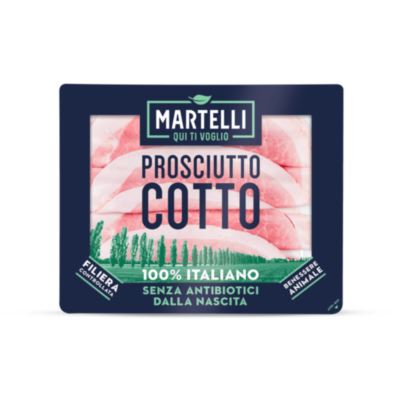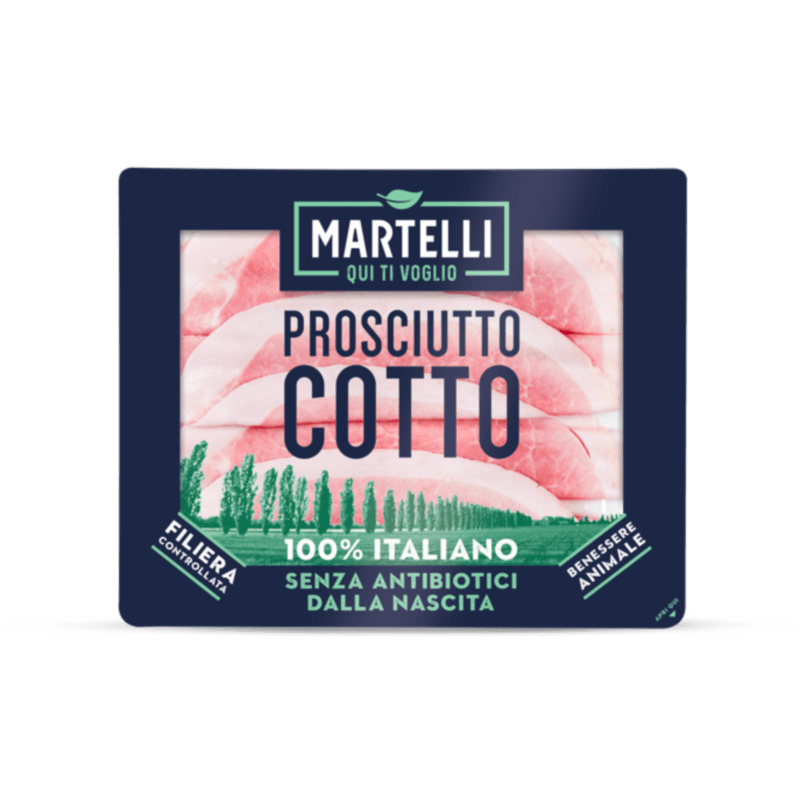 ANTIBIOTIC-FREE
COOKED HAM
High quality sliced cooked ham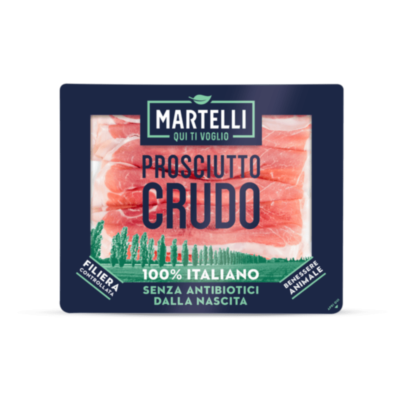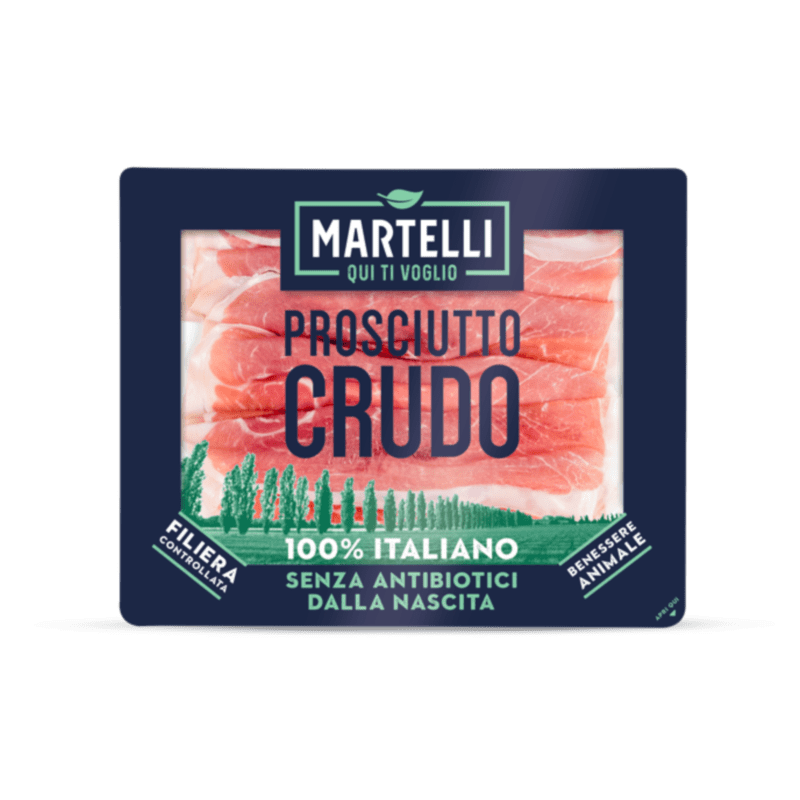 ANTIBIOTIC-FREE
CURED HAM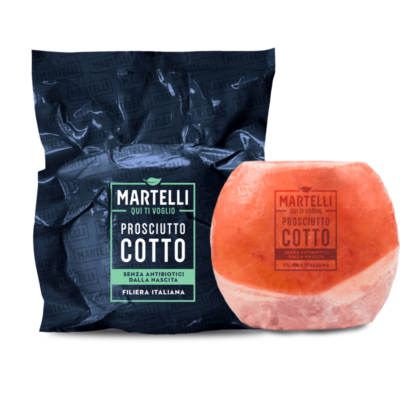 ANTIBIOTIC-FREE
COOKED HAM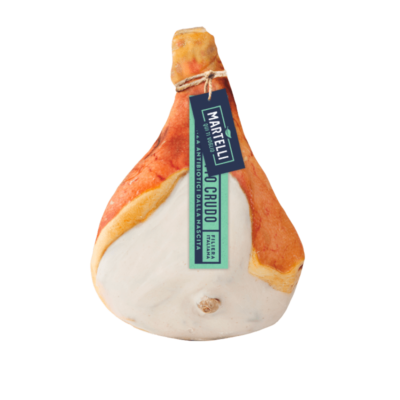 ANTIBIOTIC-FREE
CURED HAM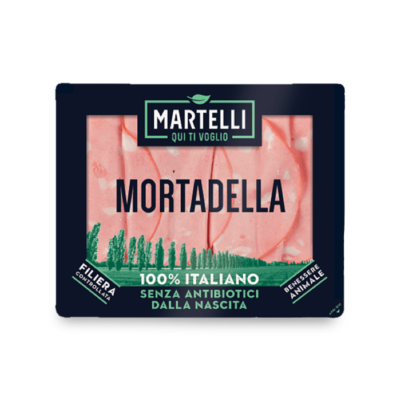 ANTIBIOTIC-FREE
MORTADELLA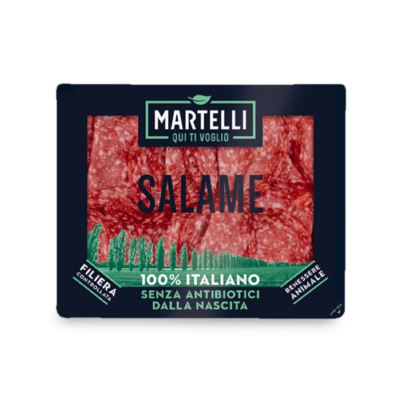 In a market lacking in antibiotic- free meat – suffice to say that in Italy almost 70% of antibiotics are intended for livestock farms, Martelli takes a step forward, entirely eliminating the use of antibiotics from birth for all its Italian pigs in the "Qui Ti Voglio" supply chain.
For the welfare of the pigs and for your safety at the meal table.
Regulations governing antibiotic-free farms allow a certain margin of use of drugs: for example, limiting them to specific periods in the life of pigs.
At Martelli, we do not make any compromises: our 100% Italian pigs are bred according to such high conditions of welfare and safety that they do not need antibiotics at any stage of their life.
We are among the first in Italy to be in a position to do this, because we deeply love our land and its traditions.
No tricks: we respect the five "Freedoms" that certify animal welfare every day throughout our controlled supply chain.
FREEDOM FROM HUNGER AND THIRST
Our pigs have free access to fresh water, and have a strict diet of vegetable products in order to ensure their health and strength.
FREEDOM FROM DISCOMFORT
The living environment is appropriate and safe, including shelters, straw litter and comfortable sleeping areas.
FREEDOM FROM PAIN AND DISEASE
We treat our pigs using rapid diagnosis and treatment to keep them healthy: we believe in conscious management of drugs and only under strict veterinary supervision. We strictly forbid any kind of wound or mutilation, as well as the cutting of the tail and teeth.
FREEDOM OF MOVEMENT AND EXPRESSION
No cages. Our pigs move freely in a large space and in the company of other animals of the same species.
FREEDOM FROM STRESS
The living conditions of farms are intended to avoid provoking fear or mental suffering.
We know how our animals live and we know how our employees work: because we love the land, high-quality raw materials, great expertise and traditional techniques, as much as the technological management of processes, automated controls and transparency regarding farms and the origin of our pigs.
We like to think that we have combined our history with the industry of the future.
In full compliance with European regulations, throughout our controlled supply chain the following are strictly forbidden: antibiotics, chemical substances that promote the forced growth of animals, allergens and any type of colouring agent.
In short, our pigs do not need them: they live a serene life, in adequate spaces full of stimuli and are fed a balanced and healthy diet.
Every time you choose Martelli for your meal table, you can be guaranteed true Italian genuineness.
The proof is in the tasting: our cooked and raw hams, cold cuts and meats are the best that the earth can provide, without tricks or sophistication.